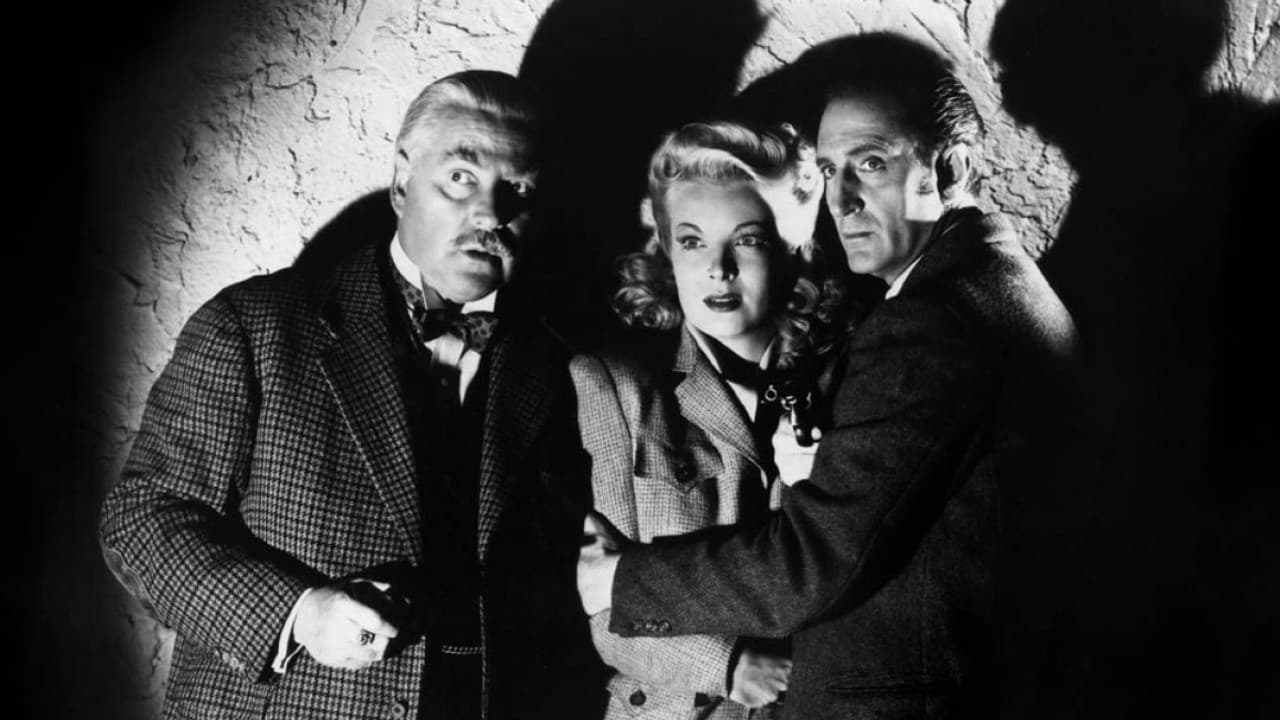 The Woman in Green (Roy William Neill, 1945, 65 min.)
This late entry in the Universal Holmes/Watson series is a welcome surprise. It's one of the best in the series, partly because it strays from formula and partly because it summons some genuine mystery. It spends a little too much time providing comic relief at the expense of Watson, but it has a great villain, an elaborate plot, and a hair-raising finale. It's very loosely based on a story by Sir Arthur Conan Doyle, "The Adventure of the Empty House," but it has little to do with the story aside from the return of Moriarty and clever trick Holmes uses to draw out a bad guy.
This time around, Sherlock Holmes (Basil Rathbone) and Dr. Watson (Nigel Bruce) take on an old-fashioned murder mystery. There have been four gruesome murders in London, and the only thing connecting them is the fact that the killer has removed a finger from the victim each time. Scotland Yard is mystified, and the lead investigator, Gregson (Matthew Boulton), calls on Holmes. Holmes quickly suspects Moriarty, who was supposed to have been hanged in Uruguay, but he has to find out how the murders are connected first. This film is notable because it features a narrator, and an unlikely one at that. Gregson, the Scotland Yard inspector, tells us in an opening voiceover about the murders and how he was forced to ask Holmes for help.
In a parallel storyline, a beautiful young woman named Lydia (Hillary Brooke) has drinks with Sir George (Paul Cavanagh) and invites him back to her apartment. The film skirts the edge of Code-approved banter, as it is clear what she's offering and what he's accepting. During a very creepy scene, she hypnotizes him, and he wakes up in a flophouse in a bad part of town. He discovers something in his pocket that makes him flee in terror; from the street, newspaper hawkers trumpet another murder. He flees to Lydia's house, where he runs into a sad-looking man with a slow drawl, who knows where Sir George woke up and what he found in his pocket. Sir George doesn't know it yet, but he's dealing with Moriarty (Henry Daniell). Holmes must get to the bottom of the mystery of the woman in green (although you can't tell she's wearing green, since the film is black and white) and put an end to what turns out to be an elaborate blackmail plot.
Daniell, appearing in his fourth film in the series as his fourth different character, is the best Moriarty of the lot. He comes across as bored but mildly amused at the proceedings; he seems distracted and above everything, which is a perfect way to play the criminal mastermind. The scenes he shares with Holmes are among the best in the entire series; their oddly pleasant conversation about how fitting it would be to die together is a masterpiece of understatement and a showcase for the great acting that elevates this series of films.
These films are a pleasure to watch. Even the bad ones are fun, sort of like bad episodes in an otherwise good television show. Since the films are all less than 70 minutes long, the comparison to good television isn't far off. This was the last film written by Bertram Millhauser, who wrote five in the series, and the falloff in quality is apparent in the next entry, Pursuit to Algiers.
Baker Street Regulars (actors who appeared in more than two films in the series as different characters):
Hillary Brooke, 3rd of 3 appearances (as Lydia Marlowe) 
John Burton, 4th of 4 (Waring) 
Paul Cavanaugh, 3rd of 3 (Sir George Fenwick) 
Henry Daniell, 3rd of 3 (Professor Moriarty) 
Harold De Becker, 4th of 4 (Shoelace seller) 
Leslie Denison, 6th of 6 (Vincent) 
Olaf Hytten, 4th of 6 (Norris, Fenwick's butler) 
Boyd Irwin, 2nd of 3 (Short-tempered officer closing window) 
Arthur Stenning, 3rd of 3 (Mesmer Club servant) 
Frederick Worlock, 4th of 6 (Dr. Onslow)