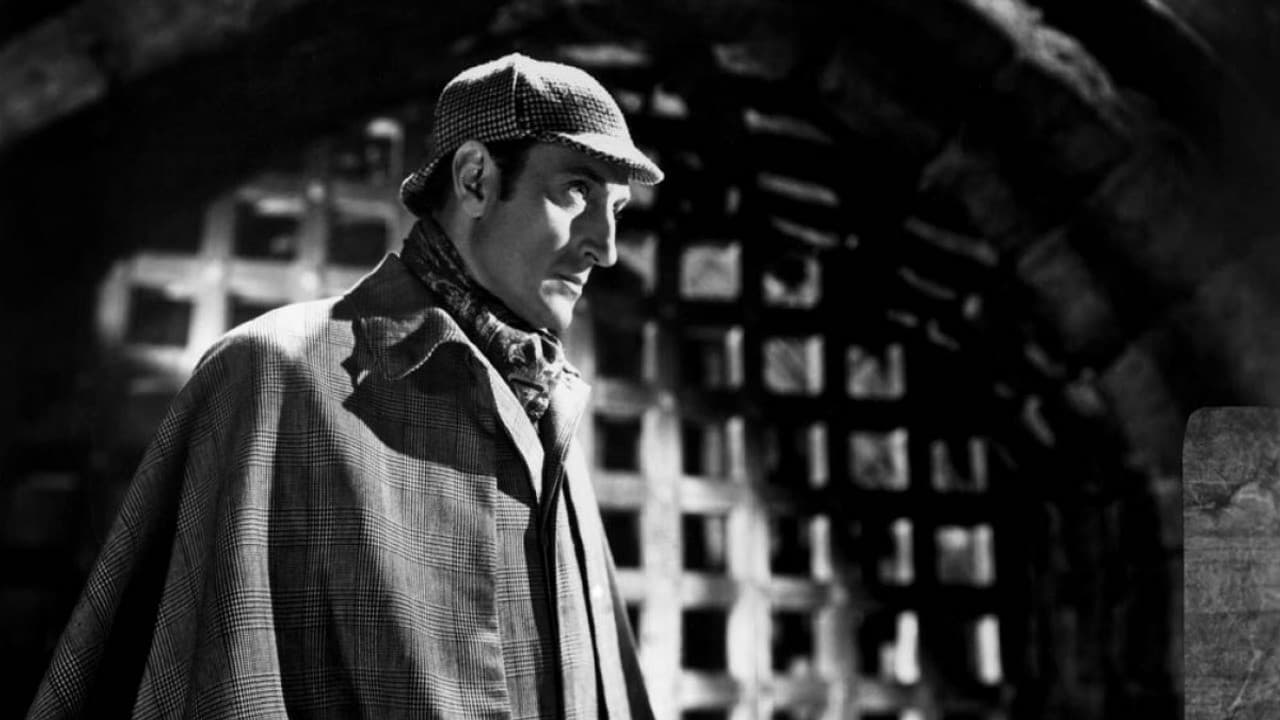 The Spider Woman (Roy William Neill, 1944, 63 min.)
In this highly enjoyable seventh entry in the Basil Rathbone/Nigel Bruce series of Sherlock Holmes films, everyone's favorite detective faces his most challenging foe, and it's not Moriarty. London is being plagued by a rash of suicides of wealthy men; only the fact that they're all the same—the men throw themselves out of their windows—convinces Holmes that there's a murderer behind it. But he's done with all that: we join him on a fishing trip in Scotland, where he and Watson are attempting to get some relaxation in. Holmes confesses to dizzy spells and tells his faithful friend, "I'm sorry, Watson. The pleasures of the chase are no longer for me. I'm through with crime forever." With that, he faints and tumbles to his death. Watson doesn't find his body, but his cap is floating in the river.
Which is decidedly odd to people who have read the original Sir Arthur Conan Doyle stories. This is the ending of "The Final Problem," in which Doyle attempted to kill of his most famous creation, except for one decided difference: in the story, Moriarty tumbled off into the gorge with him. After I got over my confusion, I began to think that this is one of the most clever reimaginings of Doyle's stories to make it into this series of films. There's something roguish in Bertram Millhauser's reworking of the most dramatic moment in the entire Holmes canon; Millhauser wrote five of the films, and his efforts just happen to include the best of the modernized ones, including Sherlock Holmes in Washington, The Woman in Green, and this one. This film also borrows elements from "The Sign of Four," which was the second Holmes story Doyle wrote.
Holmes returns from "death" soon enough, but he wants Watson to keep it a secret so that he can work on the mystery unnoticed. He quickly discovers the connection between the victims: they all lost large amounts of money gambling. Holmes enters the casino in one of the most tasteless and silly disguises that Rathbone was ever asked to wear: a wealthy Indian man, complete with dark shading in his skin, a pointy little beard, and a turban. It's no surprise that the woman behind the murders, Adrea Spedding (Gale Sondergaard), sees right through his disguise. This film features the best verbal parrying between Holmes and a nemesis: Spedding comes to visit Holmes after her minions fail to murder him, and the two have a conversation that is decidedly not about the fact that they're mortal enemies.
The villains in these films are a mixed bag. Although I love Moriarty from the stories, the various incarnations of Moriarty in the films tend to be disappointing, aside from Henry Daniell in The Woman in Green. Other films in the series have downright silly villains. Because of this, Gale Sondergaard is a delight to watch. She's one of the few bad guys who has seemed to be Holmes's match. In addition to being the deadliest opponent Holmes faced in any of the films, she's beautiful and cocky, with her perpetually arched eyebrows seeming to mock him. It's almost sad when she resorts to proto-James Bond theatrics in her final attempt to do away with him.
This is one of the best films in the series, ranked somewhere close behind The Adventures of Sherlock Holmes. Aside from Rathbone's bad makeup and a slightly disappointing ending, there are few flaws. Even the obligatory scene where poor Nigel Bruce has to act like a dunce was pretty funny—he mistakes a bearded Arthur Hohl for a disguised Holmes, and both actors play the scene well. It's also one of the most genuinely creepy films in the series, what with all the spiders. I don't like spiders.
Baker Street Regulars (actors who appeared in more than two films in the series as different characters):
Wilson Benge, 1st of 5 appearances (as unspecified clerk)
John Burton, 2nd of 4 (as announcer)
Harry Cording, 4th of 8 (as henchman on roof)
Arthur Hohl, 3rd of 3 (as Adam Gilflower)