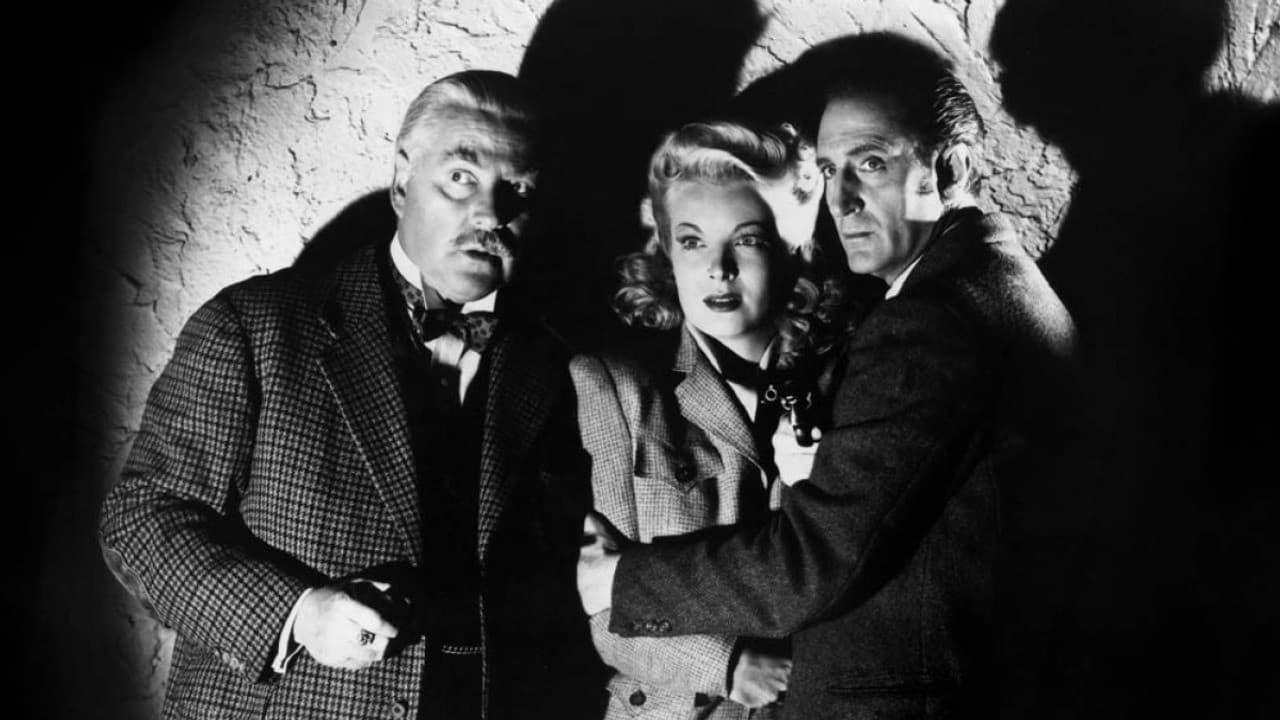 Sherlock Holmes Faces Death (Roy William Neill, 1943, 68 min.)
If you see the title of this film and think, "What's new?" you're both right and wrong. Sure, the brilliant Holmes (Basil Rathbone) faces death in every adventure, especially in the modernized series of Universal films where he faces off against Nazis and spies. But there is a newness to this installment—even though that newness is a return to an older mode, so perhaps I've just talked myself into a corner. Although this film, like the three before it, places Holmes and his trusty friend Watson (Nigel Bruce) in Word War II–era England, for the first time since Universal took over the series they're up against good, old-fashioned murderers. Sir Arthur Conan Doyle would have been pleased.
This film, which is actually based on an original Holmes story by Doyle, "The Musgrave Ritual," has our heroes investigating an apparently cursed family. While Watson is helping out at Musgrave Manor, which is serving as a convalescent home for shell-shocked officers, his young assistant, Dr. Sexton (Arthur Margetson), is attacked and nearly killed. Watson heads for London to bring Holmes back with him, but it's too late: upon their return, they find the head of the household, Geoffrey Musgrave (Frederick Worlock), dead. The lead suspect is an American airman, Vickery (Milburn Stone), who is in love with Musgrave's younger sister Sally (Hillary Brooke) and planned to marry her against Geoffrey's wishes. The always-befuddled Inspector Lestrade (Dennis Hoey) quickly arrests him, but Holmes isn't convinced.
Suspects abound: there's the angry, drunken, eavesdropping manservant Brunton (Halliwell Hobbes); his secret wife Mrs. Howells (Minna Phillips); Musgrave's cocky younger brother Phillip (Gavin Muir); and several of the convalescing soldiers, all of whom act suspiciously. The great fun in this film is watching as all of the red herrings develop, and attempting to read Rathbone's face for clues as to whom he believes and whom he suspects. Watson manages to be something more than comic relief, although he does provide plenty of that. More annoying is Lestrade, who is a long way from London and who is present only to act like an idiot.
There are welcome elements of the supernatural that were missing from the first three Universal outings: a clock that strikes thirteen just before someone dies, an ancient family ritual that speaks of murder, a raven that can say the word "blood," and a catacomb of hidden passages through the ancient house. The only real problem with the film is that it takes a while to get going; almost the first half-hour is spent shoveling in backstory and introducing the bevy of characters. Once the fireworks start, though, it's nonstop action and suspense, with a particularly ingenious ending that pits Holmes against the killer's ego.
Rathbone and Bruce are great, as always. Director Roy William Neill, helming his third of eleven Holmes films, flounders a bit at first, but when he's on, he's a master of efficient action and suspense. Screenwriter Bertram Millhauser, writing his second of four films in the series, likely can't be blamed for the awkward and chatty first half of the film, since he provided the backstory in as efficient a manner as possible. Watch for future Rat Pack member Peter Lawford as a sailor in the bar at the beginning of the film.
Baker Street Regulars (actors who appeared in more than two films in the series as different characters):
Hillary Brooke, 2nd of 3 appearances (as Sally Musgrave) 
Harold De Becker, 2nd of 4 (Pub Proprietor) 
Gerald Hamer, 2nd of 5 (Major Langford) 
Olaf Hytten, 2nd of 6 (Capt. MacIntosh) 
Gavin Muir, 3rd of 4 (Phillip Musgrave) 
Frederick Worlock, 2nd of 6 (Geoffrey Musgrave)